On my recent shopping trip to Dallas, it was so fun to explore both vintage/antique shops and big box retailers like Ikea. Every so often I would spot something and remember seeing the DIY version on someone's blog. I thought I would do a little comparison of some of the things I saw.
These first three pieces were spotted at Lulu B's Antique Mall:
Look familiar? Here's my DIY version in our guestroom:
I really like how they painted the top black, and it looks like they kept the original hardware and painted it black to match.
How about these fine chairs? I can only imagine the condition they were in when someone scooped them up, gave them a fresh coat of paint and some beautiful new fabric.
They reminded me of Kate's chair re-do on Centsational Girl:
I spotted this birdcage and remembered seeing them all over blogland (they're not just for birds anymore!). I know lots of you are finding them at yard sales and thrift stores. I wish I would have written down the prices of everything. I think this was in the $40-$50 range.
The Nester found this one at a yard sale for $10:
In fact, The Nester just might have a little addiction to said birdcages:
Not that I'm judging or anything.
Moving on….I spotted this cute lamp at Anthropologie for $198: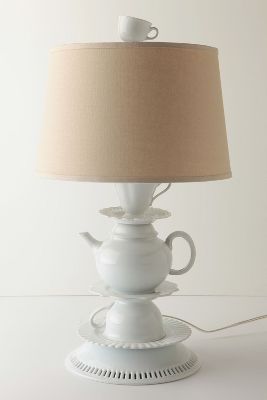 How easy would this be to DIY for a fraction of the cost? Can you imagine turning some of your vintage china or some mis-matched thrift store teacups into a cute conversation piece? I found several tutorials online:
Finally, I spied a light fixture at Ikea and instantly thought "now that would be so easy to DIY!!"
At $89.99 for the 24" size, I thought the price was a little steep and set out to find some bloggers who have made their own. Paula at Two Ellie made her version for $30:
********************************************************** Now, I know there are more of you talented ladies out there that have done projects like these, so leave a comment and I'll post your photos or links as well!
**********************************************************
Don't forget to enter my Super-Crafty Giveaway of the Century!