This week's DIY/Thrifty Thursday Find/Transformation is one that I cannot claim as my own but just had to share.  I frequently visit the
Decorating and Renovating
message board on
The Nest
(and sometimes the
Craft
board too) and came across this inspirational project.  I asked Sarah (aka sarahaaron08) if I could post it on my blog since she doesn't have one and she generously agreed.  So I present to you the
DIY Elevated Dog Feeder
! 
Before: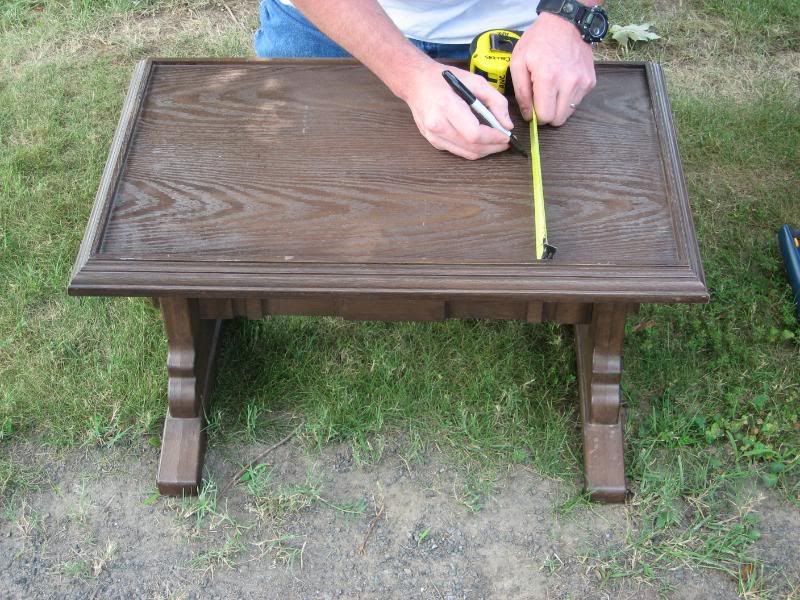 After:
Total cost: $5.00!!!! Yes, you read right, $5.00!!!  Sarah found the little table at Goodwill for $3.00 and used 2 cans of $.99 white spray paint.  Genius, I say!
A little more info: Sarah and her hubby have a large German Shepherd puppy that already weighs in at 90 pounds.  Bear had been having  issues bending down to eat and drink and would often lay down on the floor to finish his meal.  When they researched buying him an elevated feeder, they found the cost started at around $30.00 for the smallest version. 
Goodwill to the rescue!  It took them less than 30 minutes to complete the project using a jig saw and some spray paint.  The table  itself looks like wood but when you actually touch it you can tell it's plastic with a wood grain finish (even better for a messy eater/drinker).  The table is heavy enough to where it won't scoot as Bear eats and walks at the same time.
Here's Bear trying it out:
Looks like we have a winner!  Thanks so much for letting me share your thrifty creative project, Sarah!
Think of the possibilities with this…..you can coordinate it to your decor so your dog's "area" isn't such an eyesore.  Even personalize it for them if you wish. If you can't find a table short enough, just trim down the legs!
Be sure and click the buttons at the top of the page to check out everyone else's submissions.