You may remember I shared DIY birthday invitations a couple weeks ago with a cute bandana theme for a fall carnival party. Here's a reminder of what they looked like:
Invitations set the theme for your party, and I think it's important to carry that theme all the way through the party, beginning with the decorations. 
I've seen these cute banners all over the internet, and when my friend said she wanted to make one for her party, I was excited to help.  This was such an easy project, and the ways to customize it are just endless.  Here are the supplies we used:
*Sorry for the photo quality, of course I forgot my camera and had to take pictures with my phone*
My friend printed out individual letters (in the same font used on the invitation) on textured postcard paper, so we didn't have to cut them to size or anything.  We also used a hole punch, jute twine, and strips of fabric.
Next, we punched two holes in the top center of the card and strung the twine through.  We then cut strips of bandana print fabric and tied them between each letter.
She wanted to embellish it a little further, so she used Glitter Glue to trace each letter for some extra sparkle.
Here it is strung along the fireplace mantel:
So much cuter than the store-bought variety, right??  And the perfect way to coordinate with the party theme, for not a lot of money.  We could have taken one extra step and backed the letters with coordinating scrapbook paper, but decided to keep them plain and simple.  It's really a low-cost decoration that can make a big impact. 
I searched around for a few more examples to give you an idea of how versatile they are.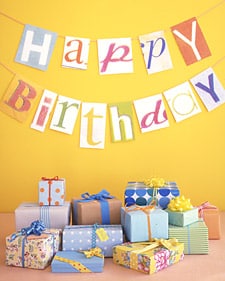 Image courtesy www.thoughtfullysimple.com
Felt banner from www.jollymom.com
The Red Chair Blog has a great tutorial for a chalkboard banner:
These banners aren't just for birthdays, either.  They are great for wedding or baby showers, football parties, and just about any celebration you can imagine.  Just use your creativity and see what you can design!
Tomorrow I'll share the rest of the party decor, stay tuned!