I absolutely love all things sparkly and glittered, so when I discovered
Martha Stewart's glittered pumpkin
project a couple years ago, I was in love! I made my first batch a couple years ago using small faux pumpkins. I'm happy to report that they've held up well, only a couple needed a small touch-up this year. Yesterday I pulled out my glitter pumpkin stash and decided to make some more with the pumpkins and gourds I got on clearance after Halloween last year. Here they are spread out ready to be glittered:
I used Martha Stewart glitter from Michael's/Wal-Mart. I actually got a 3-pack of the fall colors on clearance last year. I think Martha Stewart crafts are on sale at Michael's this week.

I didn't take any in-progress pics, but basically I followed the directions on
Martha's site
and painted on glue, then poured on the glitter. Make sure to do this over a paper plate to you can re-use any excess glitter. Here they are all finished:
I also used spray adhesive on the little pinecones and dusted them with glitter.
I have heard you can spray the finished pumpkins with clear polyurethane or sealer to prevent glitter loss, but I haven't done that yet and really don't think I will, just cuz I'm lazy like that. So far the glitter has stayed on really well, and since they don't get handled once displayed, I don't really worry about glitter getting everywhere.

Here they are displayed on a tray on our kitchen island, accented with some sparkly leaves and other fall bits:

I'm linking up with
Cheri
today for her
Holiday Party
. She's sharing some lovely painted pumpkins, so be sure and check them out, along with everyone else participating.
I'll also link up with Transformation Thursday over at
The Shabby Chic Cottage
, Trash to Treasure at
Reinvented
, and DIY Day over at
A Soft Place to Land
. While I'm at it, I'll join Julia for her
"Hooked On" Party
as well!

Edited to join Blue Cricket's Falling For Fall Party!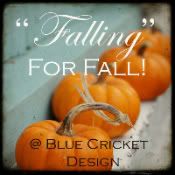 Hopefully I'll get more fall decorating done soon so I can join the
DIY Showoff's
Monday Fall Festival party too. I really want to make some faux mercury glass pumpkins next!